Textile print on stretcher frame – a fabric print using modern technology
Your image printed on fabric in razor-sharp quality and with brilliant colors – that is our textile print on stretcher frame. With its subtly textured surface, available either in matte or glossy, it transforms any photo into a unique gallery work that is full of life. During the thermal sublimation process, the colors are completely evaporated into the material. The resolution of up to 720 dpi and the enlarged CMYK color spectrum allows accurate color reproduction with clear contours. We only use textiles that are free of harmful substances and that have been awarded the internationally recognized Oeko-Tex Standard 100 certification. Your image is mounted on the solid wood stretcher frame in its true form – with no need for later adjustments.

The technology: Thermal sublimation
During the thermal sublimation printing process, your image is first copied onto a special transfer film, and then set onto reflection-free polyester in a transfer process using a hot press. The ink evaporates into the material completely. This means your image can be folded without white marks appearing, and it is fully protected against abrasion. The fabric is also resistant to external influences such as scratches, chemicals, or UV rays, and is even wash-proof. The modern process allows the reproduction of shots with 720dpi in high resolution, ensuring photo-realistic image sharpness and no pixellation. The expanded CMYK color spectrum produces particularly rich, true-to-original colors in different tonalities.
The surface: Vibrant images with a gentle shimmer, on fabric
The smooth, woven fabric of the textile print on stretcher frame has a gentle shimmer and offers an alternative to classic canvas. You can choose to strengthen this effect with a glossy surface, or you may prefer the more discreet matte option. The texture of the fabric stands out with either variation. It lends your image a tactile, vibrant effect. As you can expect, the textile print on stretcher frame can be ordered in the format of your choice. Minimum size: 11.8"x11.8" Maximum size: 60"x45"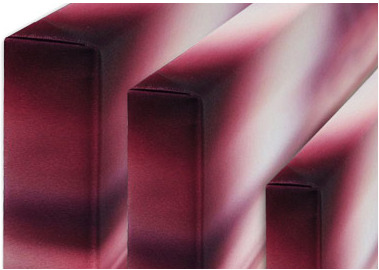 The solid wood stretcher frame: Stable, robust, no later adjustments!
For your textile print we only use stable, high quality stretcher frames made of solid wood. The spruce wood comes from German suppliers and is sourced from sustainable forests. To give the stretcher frames permanent protection from losing shape, we triple-reinforce the corners under the textile print using metal braces. When mounting on the stretcher frame, we avoid using wedges – the frame is so stable that you won't need to loosen or tighten it at a later stage. Our stretcher frame is available in three different depths, 0.79", 1.57", 2.36", or as a 3D stretcher frame.
The fabric: Textile with no harmful substances, certified under Oeko-Tex Standard 100
The "Confidence in Textiles" label identifies materials that do not contain harmful substances. Within the last 20 years, through this label, an internationally standardized quality control system has been established and has become indispensable to both consumers and manufacturers. Only material that meets the demanding requirements of the Oeko-Tex Standard 100 is recognized with this stamp – like our textile print. The fabric is odorless from day one and does not contain any solvents or softening agents that need to be washed out with harmful chemicals – that's a guarantee.
The hanging system: Additional frames come with metal corners, at no extra cost
Whether it's a mini format or a panorama, your textile print on stretcher frame is always delivered ready-to-hang at no extra cost. If you choose an additional framing for your textile print on stretcher frame, we attach robust metal corners to the back of the work. Their teeth allow you to easily and securely position your photo wherever it makes the strongest impression.